Ladakh: People and Land
Ladakh is located in northern India, in the Himalayas. The capital is Leh which was our base for the first week we spent there between July 6th and August 15th 1991. We visited the Lamdon School in Leh and were invited to the inauguration of their new science lab.
Photos slide show:
We also visited the many temples in the area: Alchi, Hemis, Likir, Stock and Rizong (see picture on the left). The Buddhists imagery and mandalas are fantastic (see picture on the right)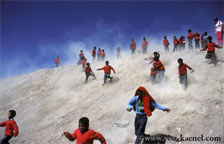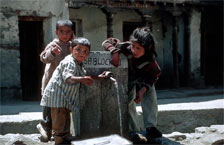 Trekking from Hemis to Darcha
We enjoyed a trekking between Hemis and Darcha. It took about 11 days for us to join the road from Hemis to Manali. Starting from Martelsang (close to Hemis) we went up the first pass (Kongmaru-La, 5150m), and had great views on Shang (Sumdo, picture on the right). The Nimaling plain was still green despite the altitude of 4700m. From the Nimaling plain you can see the Kang Yaze (6400m). The next day we went up Zalung Karpo La (5100m), leaving Konka Wangpo on our way. Sorra, our arriving place, is a village used only during the summer time (4200m). Then we spent one full day of rest in the Dat valley (Dat Chu).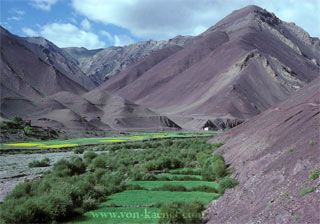 From Dat, we climbed the Yar La (4900m) passing Dango. The next stop was Lungmo Che. Since we approached the high Tibetan plateau, we were lucky enough to see a wild Kiang. We followed our route to Jakang and then reached the road from Hemis to Manali.
Photo slide show: