Kamishibai storytelling
by Nicole von Kaenel
The kamishibai is a wooden stage in which the storyteller slides picture cards. The kamishibai stands on a table behind which the teller stays and narrates the story (reading the text printed on the back of the cards) while the audience looks at the pictures. The picture size is about 15 by 10½ inches.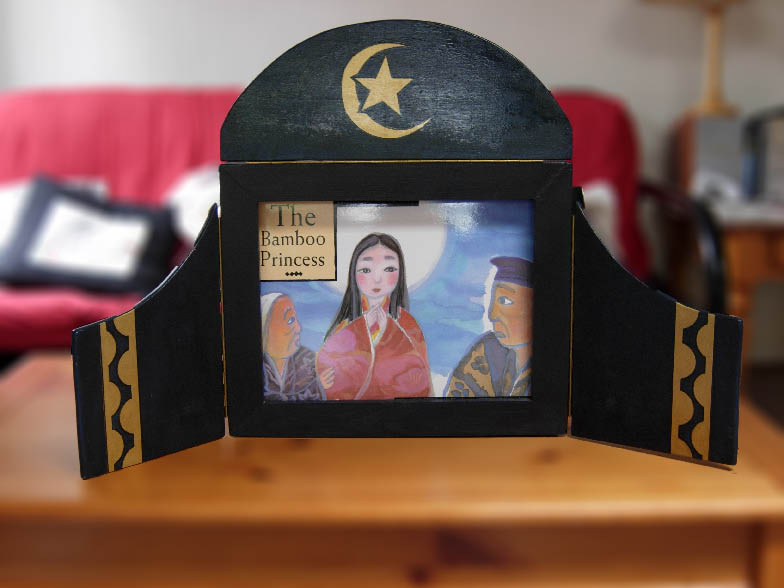 The kamishibai used to be a street-storytelling in Japan from around 1920 to 1950. With the coming of TV it disappeared from the streets. The storyteller would bike from place to place and carry a little wooden stage along with him, mounted on his bike. He would gather a small crowd and start selling candies. He then would tell his stories sliding the picture cards in the stage one by one and putting them in the back. He would often stop at a key moment so the audience would come again the next day to enjoy the end of the story. In Japanese "kami" means paper and "shibai" drama.
I'm not providing candies but I'm willing to share some of these traditional stories from Japan! I own a wooden kamishibai and a choice of stories. First I'll introduce the children to the history of the kamishibai by a quick oral presentation and then through the book "Kamishibai man" by Allen Say. This story is about an old man who comes back to his kamishibai stories after years of not telling them due to the success of television. Then I'll use my kamishibai to tell a story. Depending on the children's age, I will chose something accordingly within my collection. I have traditional Japanese stories, but also more modern stories that I can tell in English, Spanish or French.
By the end the kids will have enjoyed to learn about another way of telling stories and another kind of stories. I'm happy to answer any questions they might have about the kamishibai. They can see the "behind the scene" as I'll show them the back of the stage and the cards.
I have 15 years of experience as an elementary school teacher.
Kamishibai storytelling is enjoyed when read to a maximum of 40 people (one single class is the ideal group size). One full session usually takes about 30 - 45 minutes.
You can reach me by email
Here are some traditional titles:
The Bamboo Princess (English)
The Rice Paddle (English)
The old Man and the Fox (English)
Amidou (French)
L'enfant fleur (French)
Le grand voyage de Balthazar (French)
---
The sending of any unsolicited email advertising messages to this domain will result in the imposition of civil liability against you in accordance with Cal. Bus. & Prof. Code Section 17538.45
© Copyright 1999-2014 Vincent von Kaenel All rights reserved.
Document last modified on : Wednesday, January 1, 2014 10:57 AM